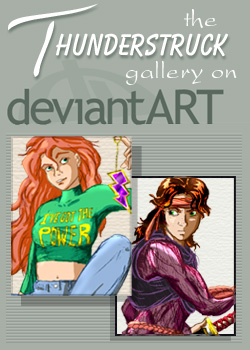 Thunderstruck on DeviantART
DeviantART is a vast, thriving online community of artists, writers, and photographers of all sorts. My own gallery includes a lot of different stuff. Much of it is artwork from Thunderstruck -- stuff that I have not put on the main website, but which might be interesting to you if you're a fan of the comic.

I also have a lot of other art from my many sketchbooks at different levels of completion -- some very rough, some fully colored and finished. These include my drawings of dinosaurs, fantasy creatures, and characters from stories I've written.

A large portion of the gallery is dedicated to drawings from the "Wakatu" campaign. This is a pen-and-paper role playing game that I run as GM for my wife and several friends. It's set in an alternate medieval Japan called Wakatu, with lots of magic and demons, gods and dinosaurs, and superhuman martial arts. In order to help my players visualize the world better, I do drawings from the campaign sessions as often as I can.

In fact, I did a whole comic based on the very first session. That's "Dragonfly Wind" ... and I'll tell you more about that below.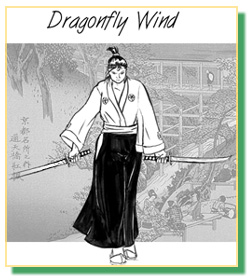 Dragonfly Wind by Grayson Towler
(with special thanks to Candi Cooper-Towler and Andrew Young)

In the an alternate world of samurai and magic, two warriors traveling in opposite directions meet on a narrow bridge. A duel between them seems unavoidable -- but in Wakatu, it's never safe to assume how these things will turn out.

Dragonfly Wind is based on a pen-and-paper RPG session that I ran as GM, with my wife Candi and my friend Andrew Young as the players. Now you can meet Azami (played by Candi) and Kagami (played by Andrew Young), and discover how these two unlikely warriors first met on their long and extraordinary journey.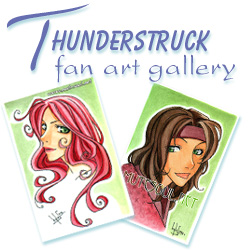 Fan Art for Thunderstruck

I'm always quite keen to see how other artists interpret the characters of Thunderstruck. Frequently, I find myself inspired, and hoping that I can achieve the level of skill in the fan's drawing!

Anyway, I love receiving fan art. So if you feel like drawing a character from the story, please send me a copy!. Or you can send me a link to where you have it posted if it's on the web somewhere. I shall be sure to post it here.

All fanart is © Copyrighted to its original artist. Depicted characters are still © Copyrighted to Grayson Towler.